Tree of HOPE
(Planted July 2016)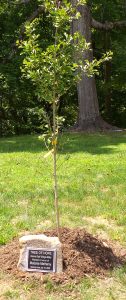 It is hard to believe that it has been 10 years since my daughter, Melanie, went missing. Not one day has gone by that I have not asked myself, is she safe? Is she hurt? Is she scared? Is she happy? Is she close by, or far away? Is she even here, at all? Without knowing the answers to these questions, my grief is frozen, which creates constant suffering without any closure.
During these last 10 agonizing years, I have asked myself many times, "Would Melanie want me to be stuck in this endless spiral of pain and uncertainty? Would she want me to fail to see all the beauty that is in the world?"
4 years ago, I decided to turn my grief and pain into strength. With the help of my husband and sister, Melanie's HOPE was born. Our goal was to make sure that Melanie, as well as all West Virginia's missing are remembered.
On this 10-year mark, on the spot so preciously donated by Coonskin Park, in Charleston, West Virginia, we have planted an Autumn Gold Gingko Biloba tree. We chose this particular tree because when it grows, it's leaves will become bright yellow in the fall. Yellow is the color that signifies missing persons; and when you stop to look at this tree and see all those yellow leaves, you cannot help but be happy, optimistic, and enlightened. Our hope is that when you see this tree, you will feel all the symbolisms that this tree represents: Strength, Longevity, Resilience, Vitality, Endurance, but most of all Protection, Peace, and Hope. For that, we have named this tree, The Tree of HOPE.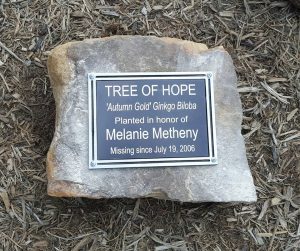 We offer this Tree of HOPE to everyone who needs a place to go, to think, cry, mourn, wish, dream, and celebrate. Our hope is that this tree reminds everyone about Melanie's disappearance, as well as provides comfort, solace, and shelter to those with missing loved ones. May everyone that looks upon this tree find that comfort, strength, peace, and HOPE.
There is an old proverb that says, "A society grows great when old men plant trees whose shade they know that they shall never sit in."
Today, we offer this Tree of HOPE, which we planted, in hopes that it provides that shade that so many need in their lives.